Landscape Design Trends for Summer 2019
It may not officially be summer just quite yet, but the beautiful weather has certainly already arrived here in St. Louis. If you haven't already started thinking about your outdoor spaces and how to get as much use out of them as possible this summer, it's time to get a move on. This year's summer landscaping and gardening trends focus on creating an outdoor space that is easy, functional and beneficial for both your family and the environment.
1. Low maintenance is key.
One thing is for sure – you want to spend your summer enjoying your outdoor spaces, not maintaining them. Fortunately, a little bit of knowledge paired with modern technology now make keeping maintenance to a minimum easier than ever.
The most logical place to start here is with the plants themselves—the types of flowers and plants that you choose for your garden and landscaping will naturally determine how much maintenance they require. The landscaping experts here at Flora can help you to select plants that are native to the St. Louis climate that fit your budget, space and personal style. Of course, even plants that are indigenous to St. Louis still need some care and proper watering, but because they are in their natural environment, they don't require a whole lot of extra TLC to keep alive and thriving.
Technological tools and apps are another huge landscaping trend for 2019. Did you know that you can now purchase robotic lawn mowers that actually cut your grass for you?! Irrigation systems are also a great way to cut down on the necessary time spent caring for your lawn and landscaping. There are even a variety of apps that you can use to program your irrigation and lighting systems. Of course, if you want to make the absolute most of your summer free time, the trained professionals here at Flora in St. Louis can handle your landscaping maintenance for you. Offering both seasonal and special occasion maintenance packages, Flora will keep your yard in tip-top shape, and you won't have to lift a finger.
2. Pink… because today it goes with the fashion.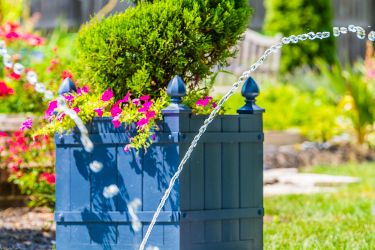 Pink is all the rage this summer in St. Louis. In fact, Pantone, the widely accepted industry experts on color, announced Living Coral as the 2019 Color of the Year. This is great news for the landscape designers here at Flora, as roses, petunias, zinnias, hibiscus and a multitude of other types of flowers come in a breathtaking array of pink and coral hues.
Lighter blush tones are also being hailed as "the new neutral" and are being utilized in a variety of ways including furniture, art pieces, hardscapes and accents.
3. Bring out your inner rock star with metallic accents.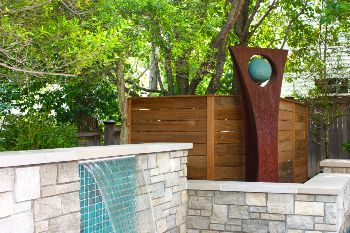 The inclusion of metals in landscaping is a huge trend in 2019. From fire pits and furniture, to sculptures and water features, metals are a bold touch that definitely make a statement.
4. Functionality isn't just good, it's a must.
Functionality in 2019 isn't just a perk, it's a necessity. Customers don't want an outdoor space that's simply pretty to look at, they want one that they can use as well. Outdoor living areas have been a trend for quite a while now, and they certainly aren't going out of fashion anytime soon. As a result, Flora continuously sees a huge demand for beautifully landscaped areas where families and friends can gather to relax, socialize, eat and enjoy the St. Louis summer outdoors. It should come as no surprise then that pergolas and other outdoor structures are wildly popular and are getting some major upgrades such as roll down windows, lighting, entertainment systems and outdoor kitchens. It's kind of like bringing the indoors, well, outdoors.
5. Protecting the environment is always in style.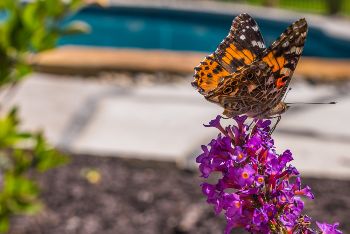 Adding landscaping to your home can of course increase its value, but it can have a positive impact on the environment as well. One extremely significant trend in 2019 is protecting ecosystems and building biodiversity by choosing plants and flowers that attract pollinators. Here in St. Louis, like in many other places around the U.S., plants that attract bees and butterflies are especially popular. As awareness of their vulnerability grows, people are becoming more conscientious about the importance of selecting plants and flowers that create a haven for not only themselves, but for pollinators as well. Not sure what types of plants bees and butterflies like best? No problem! The designers here at Flora can help you choose the best options!
Interested in seeing how the professionals at Flora can help you incorporate these trends into the landscaping and outdoor spaces at your St. Louis home? Fill out our online form or give us a call at (636)728-1520 and let us create something beautiful for you!