Landscape Design in St. Louis
Flora Design & Landscape has the expertise and necessary resources to create stunning landscapes for a wide variety of St. Louis area homes and lifestyles.
Our elite team of landscape designers will guide you through the process and help you to select the perfect assortment of both greenery and hardscape elements to create an enduring, unique space for you and your family to enjoy for years to come.
The Flora Approach to Landscape Design
We will inform you of a variety of different trees, plants, and flowers and help you to select those which are best suited for your needs and St. Louis conditions.
In addition to the living elements for your landscape design, we will also help you to explore different material choices, such as gravel and mulch for landscaping beds, stones for patios and walkways, bricks and stones for edging and modular blocks and natural stone for retaining walls. Our designers also help you consider other important landscaping elements such as lighting, pathways, fencing and irrigation. We will coordinate all planning and installs to ensure the seamless continuity and completion of your project. We can continue our partnership through ongoing landscape maintenance.
Computer-generated renderings of many of our St. Louis landscape projects allow you to realistically envision the finished result before any actual construction takes place so that you can be confident that the final product will meet your needs.
After all final design decisions have been made, our installation team will work diligently to bring your plan to life. We strive to bring peace of mind to you by guaranteeing that all construction will be timely and professional.
Once installation is complete, all that's left to do is sit back and enjoy the beauty and serenity of your new yard for many years to come.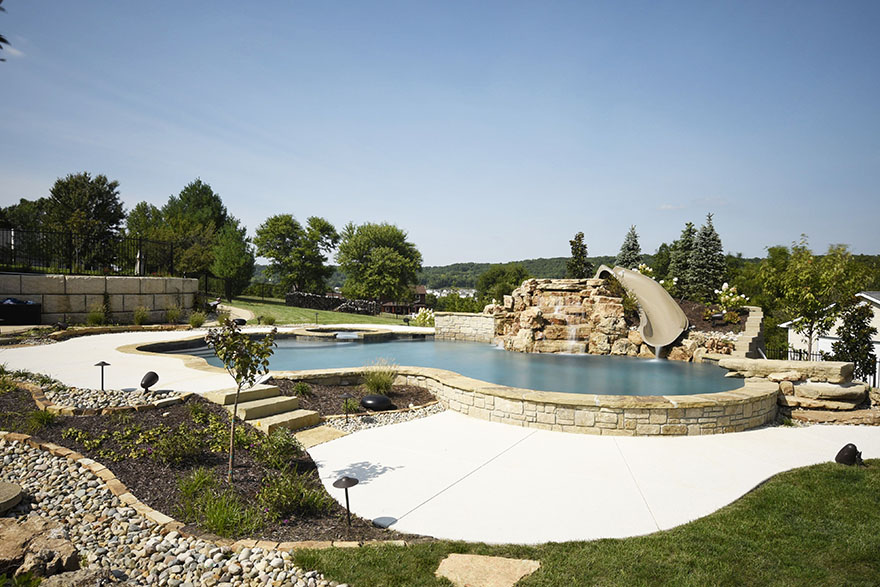 If you are interested in a custom landscape design for your St. Louis area home, contact us today! The Flora Design & Landscape team is ready to help you create the outdoor space of your dreams!