Best Trees to Plant for Year-Round Privacy
When meeting with a new client, one of the first questions that the Flora designers ask is "What are you looking for in your new landscaping?" Every homeowner of course has unique requests and expectations, but there is one element that consistently tops the wish lists – privacy.
Certainly, the most obvious way to deter nosy neighbors and passerby is a simple privacy fence. A fence will undoubtedly get the job done, but for many homeowners, it is not the most visually appealing solution. In these cases, a natural barrier comprised of trees and/or other plants may be a suitable alternative. Generally planted in rows or clusters, living privacy screens enhance the architectural design of your landscaping while also suppressing noise and protecting your property from high winds.
When opting for a living fence, there are many important factors to take into consideration. Here are a few of the most crucial things to keep in mind:
1. Stick to evergreens.
Like their name implies, evergreens retain their foliage and remain dense year-round, even throughout the winter months. This characteristic naturally makes them the most evident choice when it comes to privacy.
2. Know your location.
As always, it's important to choose plants that are suitable for the St. Louis region and will thrive in our climate. Once established, native plants require less attention and maintenance which will, let's face it, make your life a whole lot easier.
3. Consider height and growth rate.
Just because a specific tree looks good when it's planted doesn't mean that it will remain that way. When planning for the long-term, it's essential to consider how plants are going to grow and look over time. Larger trees will generally be more effective when it comes to providing privacy, but you don't want to install species that are going to quickly outgrow their space. As a general rule of thumb, you want to space trees accordingly to their estimated mature base width.
4. Pick what's pretty.
This may seem glaringly obvious, but choose plants that you find aesthetically pleasing and will enjoy looking at day after day, year after year. With literally thousands of varieties to choose from, you should have no problem finding something that you love.
There are a lot of relevant components to examine but, have no fear – there are also a multitude of suitable options to choose from. Here are some of Flora's favorites:
Green Giant Arborvitae
The Green Giant Arborvitae is largely regarded as one of the best trees for privacy. Green Giants are extremely resilient to both cold and hot temperatures. They are also exceptionally fast-growing and will therefore grow in and provide privacy very quickly. Not surprisingly, Green Giants can grow very large, making them a great option for homeowners with large yards and lots of extra space to fill.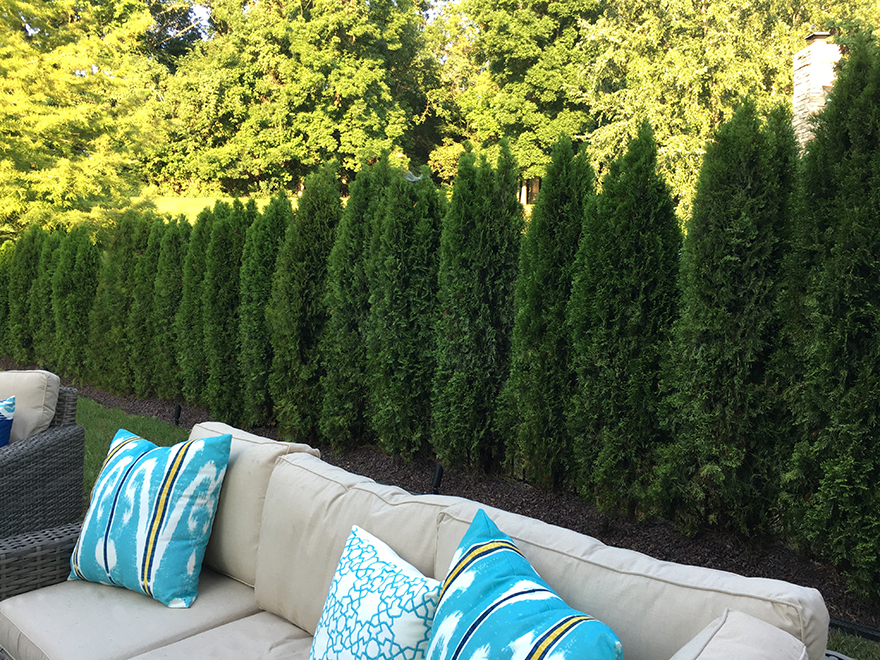 Emerald Green Arborvitae
Like the Green Giant, the Emerald Green Arborvitae is a very hardy species that easily perseveres during freezing St. Louis' winters. Emerald Greens are, however, much narrower than their Green Giant relatives. They tend to retain their shape and require very little to no routine maintenance. This makes them a fantastic choice for homes with more compact yards. Just be sure to have a defense against deer on hand, as the critters often like to snack on the soft, lush foliage of Emerald Greens.
Norway Spruce
The Norway Spruce is another great option for people with large yards and lots of planting space. They are the fastest growing spruce, and are also very reliable and resistant to disease. Like the Arborvitaes, the Norway Spruce is very effective at blocking wind and creating seclusion.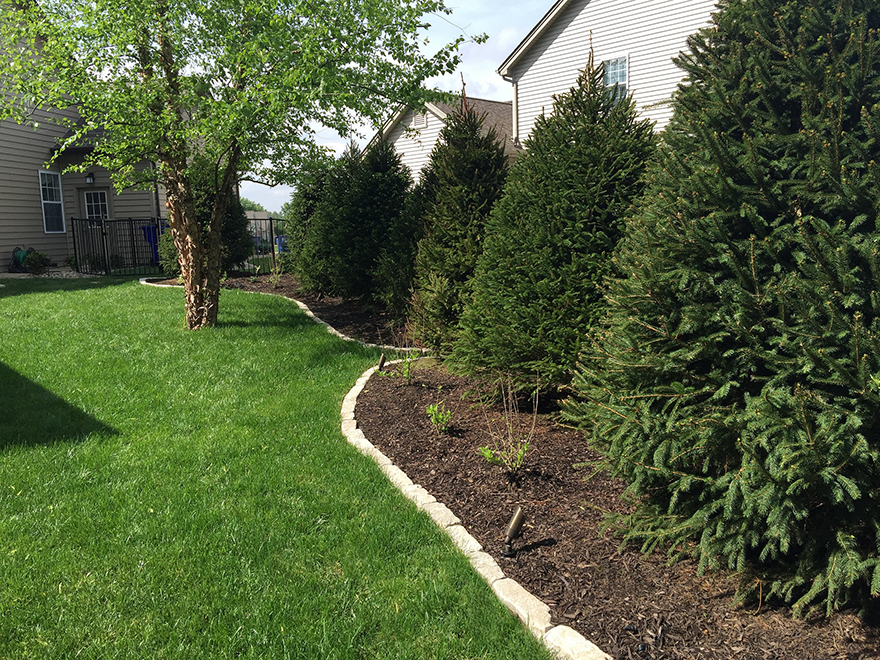 Blue Point Pyramidal Juniper
The Blue Point Juniper is an excellent option for privacy borders, as it tends to grow in a very pyramidal, columnar shape. Blue Points are fast-growing and mature at a moderate height. They are also very hardy, resistant to both wind and drought. As their name suggests, these evergreens boast a beautiful, blue foliage, making them the perfect choice for homeowners wanting to add a little color and diversity to their yard.
Skip Laurel
The Skip Laurel is more of a shrub than it is a tree but, when planted in rows, it makes for a very attractive, effective privacy screen. Once established, Skip Laurels need very little attention and will grow uniformly in both full sun and shade alike. It can be easily trimmed to create hedges of all shapes and sizes, but also looks very graceful and dense when left unclipped. Skip Laurels remain hardy in the St. Louis climate, and their glossy, dark green leaves look lush and healthy year-round. This plant is also resistant to both disease and pests. If you're looking to create a screen that requires virtually no maintenance, the Skip Laurel is an ideal option.
Ready to add some privacy to your outdoor space? The professionals at Flora Design & Landscape can help you determine which species are best suited for your yard. Fill out our online form or give us a call at (636)728-1520 to get the conversation started.