Six Brilliant Ways to Incorporate Stone Into Your Landscaping
When you think landscaping, the first thing that comes to mind is probably plants. While plants are undoubtedly an integral component, here at Flora Design and Landscape in St. Louis, we know that a beautiful landscape design consists of more than just trees, shrubs, flowers and other living elements. In fact, some of the most prominent features of any landscape design are typically hardscape items like patios, walkways, stairs and retaining walls. These focal points help to define the space and provide bountiful opportunities for incorporating rock and natural stone into your landscape.
1. Patios and Walkways
When it comes to overall landscape and hardscape design, patios and walkways are two of the most straightforward applications for stone. These areas tend to see a lot of use, meaning that they must be impervious to everyday wear-and-tear as well as the natural elements. For this reason, stone is an ideal choice as a building material for patios and walkways.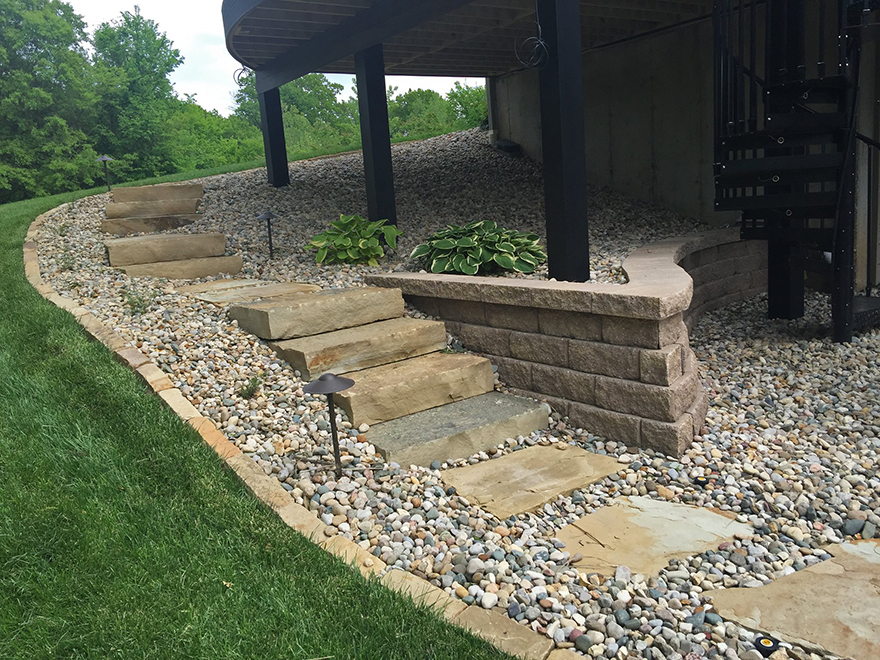 2. Stairs
Stairs are a practical, and oftentimes necessary, part of many St. Louis landscape designs as they provide comfortable access to all areas of your outdoor space. Stone ledge rock steps are a stylish alternative to traditional concrete stairs and offer a safe, inviting way for your family to easily maneuver around your yard. What's more, stone ledge stairs are very sturdy and able to endure the unpredictable St. Louis weather.
3. Fire Pits and Fireplaces
Outdoor fire pits and fireplaces are a great place to gather and a wonderful way to keep your outdoor space functional into the chilly St. Louis' winter months. They are an excellent addition to any yard, as the warmth that they provide effectively extends the amount of time that you can spend outdoors enjoying time with family and friends. For this reason, they are extremely popular among our St. Louis residents. When it comes to their design, both fire pits and fireplaces come in a wide variety of shapes, colors, styles and materials. Stone is a popular choice as it is durable, a good conductor of heat and elegant in appearance. Strategically placed stone boulders also make excellent options for seating around any fireplace or fire pit.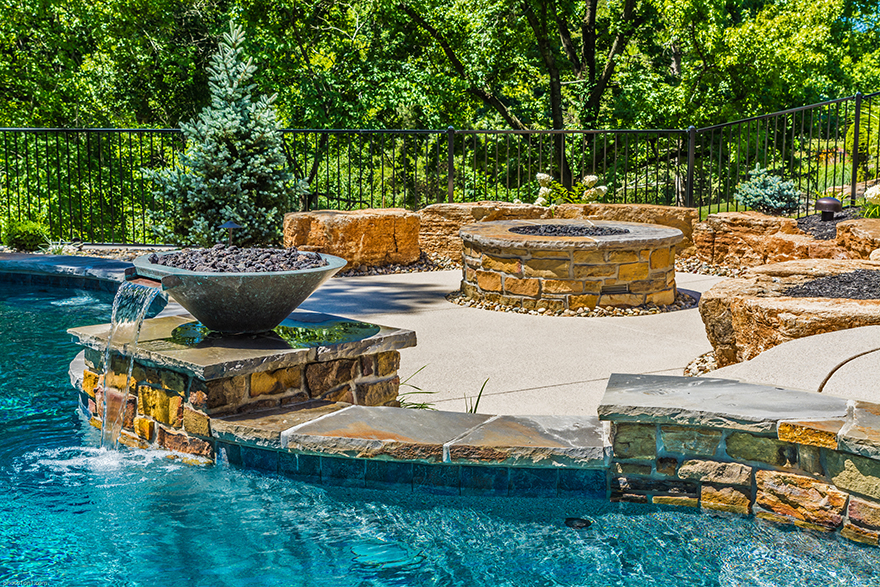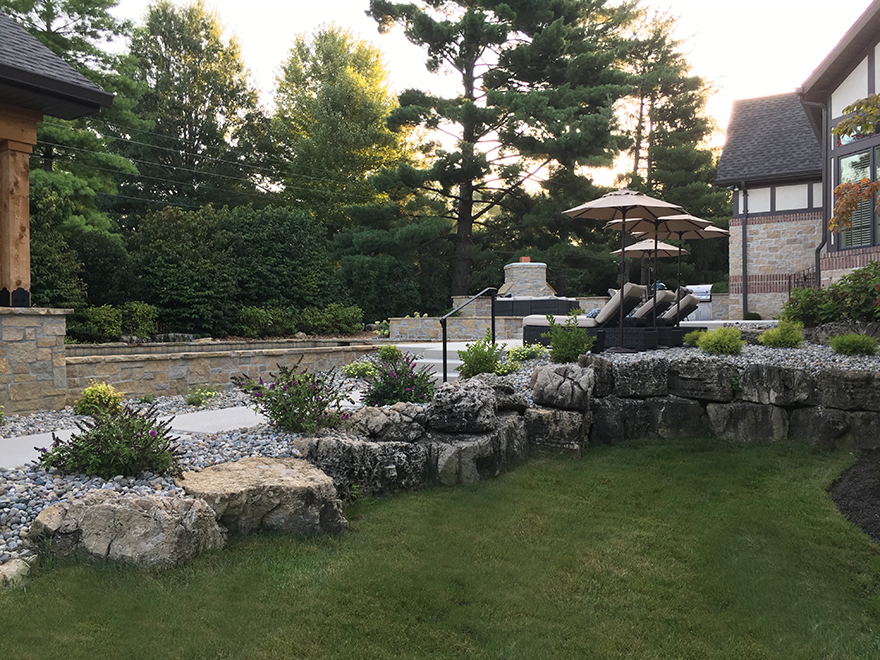 4. Retaining Walls
Retaining walls are crucial when it comes to protecting your St. Louis yard from erosion and structural damage. They must be highly dependable and capable of supporting an extraordinarily large amount of weight. Due to their inherent strength, landscaping stones and concrete are usually the preferred building material for retaining walls. Fortunately, there are plenty of opportunities for homeowners to customize retaining walls that compliment their landscape as there are a multitude of different styles and colors of stone to choose from.
5. Fountains and Water Features
Outdoor fountains and water features add a unique touch and a calming ambiance to any landscape design. Our team of landscape designers custom design and build each water feature to meet the specific needs and desires of each individual homeowner. Stones and boulders of various shapes and sizes are generally the main components of these configurations.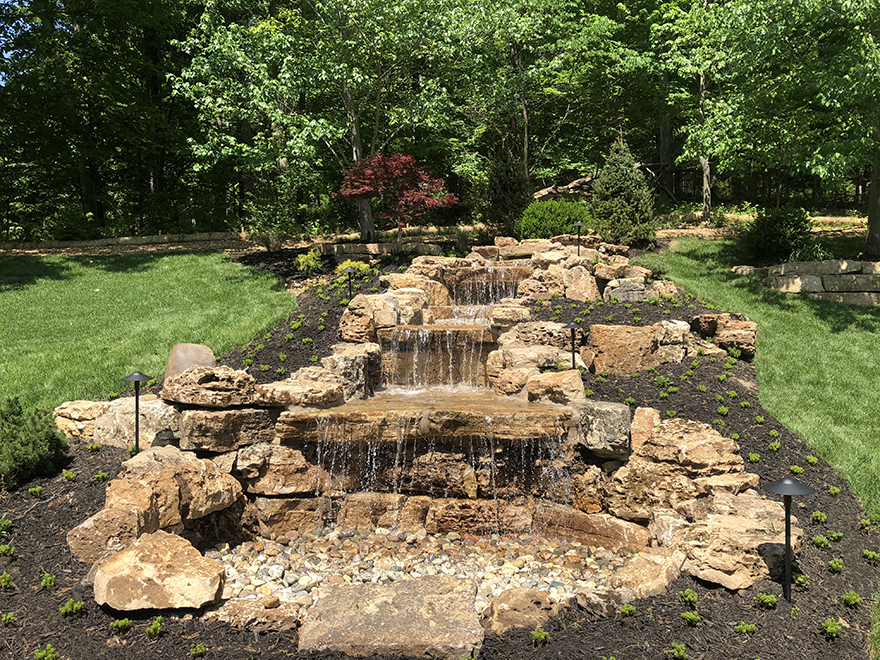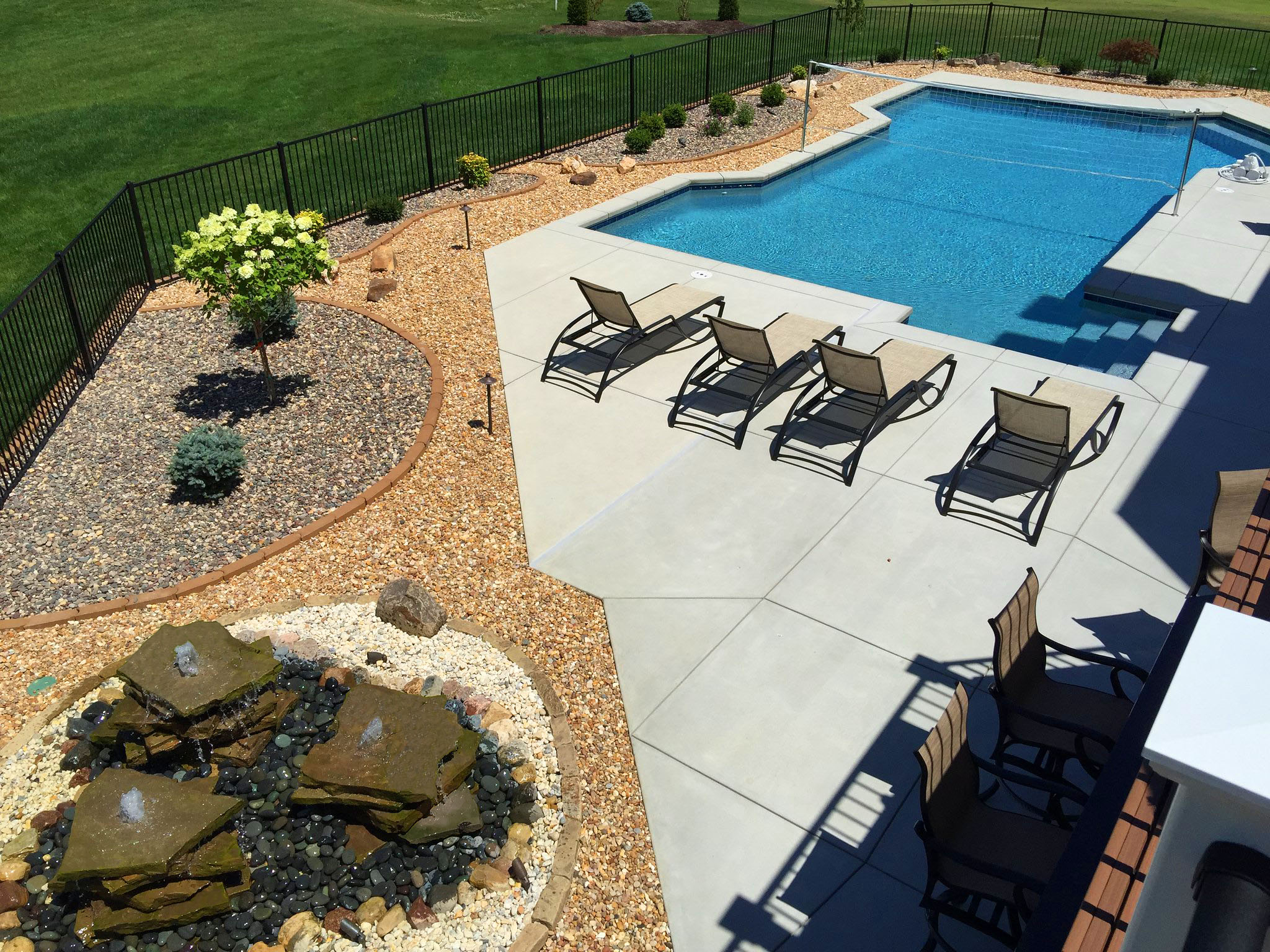 6. In Place of Mulch
Mulch is commonly used in planting beds to retain soil moisture and prevent weed growth. However, stone is another ground cover material that is also capable of these functions. While stone or gravel may be more expensive up front, it is highly durable and, unlike mulch, does not need to be replaced every season. As an added benefit, rock beds require very little maintenance and will continue to look fresh year after year.
Interested in adding some stone or rock to your outdoor landscape design? Winter is the perfect time to add hardscape elements to your St. Louis yard. Give us a call at (636) 728-1520 or fill out our online form to schedule a meeting with the landscape experts at Flora Design & Landscape today!